Ministry of Health & Social Development
Release Date:
Tuesday, 2 June 2020 - 3:14pm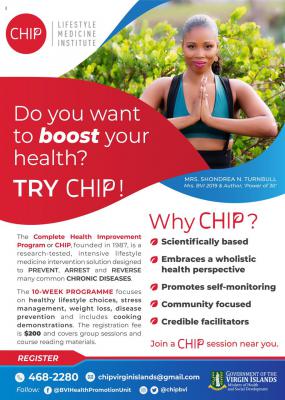 Registration is open for the Complete Health Improvement Program, CHIP set to launch this month.
CHIP is a 10-week course that teaches participants how to boost their health and lead a healthier lifestyle. Each session will run for approximately two hours. The course will be led by 23 certified facilitators who were trained in the Territory in November 2019.
Public Health Coordinator, Ms. Ivy George explained that CHIP was selected by the Government of the Virgin Islands as a community-based intervention programme for improving health, and reducing and preventing the non-communicable diseases (NCDs).
Ms. George said, "The main reason the CHIP programme was selected was to provide members of the community who need a roadmap to guide them in a behaviour change lifestyle intervention."
According to Ms. George, CHIP is scientifically-based with proven results in preventing and reversing NCDs and their risk factors; is cost-effective and can be successfully run by laypersons at the community level; provides capacity for biometric and blood screening of participants, hence the collection of data to contribute to trends in the population; and the course material is current and presented by highly trained health experts.
Ms. George also said CHIP was introduced to mitigate the modifiable risk factors prevalent in the Territory among the adult population, ages 25 to 64. These include tobacco use, harmful use of alcohol, unhealthy diet and physical inactivity.
The coordinator referenced a 2009 WHO STEP Survey conducted in the adult population ages 25 to 64 that showed that 45-percent of males and 46-percent of females in the Territory had three or more risk factors for chronic diseases.
Ms. George said, "Uncontrolled modifiable risk factors give rise to obesity, raised blood, high blood pressure, diabetes and high cholesterol." She added, "CHIP gives participants the tools to not only decrease their risks for NCDs but can also improve their overall health."
After completing the course, participants will join the CHIP Club, which is a support group to help individuals maintain their healthy lifestyle. The club will meet once a month for 12 months.
Persons can call 468-4936 or visit www.bvi.gov.vg/vichip to register for CHIP. The cost of the course is $200, and grants will be available for persons who will need financial assistance. For more information, follow @bvichip on Facebook, Twitter and Instagram.
The Complete Health Improvement Program (CHIP) was founded in the United States of America in 1988 by Dr. Hans Diehl. The Ministry of Health is the holder of the licence to operate CHIP in the Virgin Islands.
Author