Ministry of Health & Social Development
Release Date:
Thursday, 26 March 2015 - 8:15am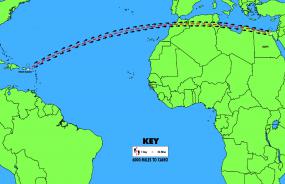 The Ministry of Health and Social Development has committed to walk 12 million steps, which is the equivalent of walking from the Virgin Islands to Cairo Egypt.
This exercise is a part of the recently launched Fitness Movement Challenge and will be done by a group comprised of 18 persons who have committed to walking a collective one million steps a week to reach the targeted goal.
Programme Coordinator Mr. Jason Rubaine said "We are very excited about our walk to Cairo. As a ministry we wanted to lead by example. We wanted to experience all of the challenges and glory that we were asking others to experience as part of the Fitness Challenge."
Mr. Rubaine said since the Ministry formed its fitness group "Movers for Life" there is a difference with the level of cohesion and support among members. He added that it is a collective effort and everyone is active and serious about the challenge.
Mr. Rubaine also expressed his excitement about the challenge. "It is a joy for me to look out into Road Town and the surrounding villages and see the people walking and truly being serious about this challenge."
Persons who have accepted the fitness challenge have outlined several reasons why they are involved. These include health, weight control, motivation, inspiration, consistency, moral support, and longevity.
The Programme Coordinator said there is a long way to go before the 12 week challenge is completed and pledged the ministry's support to the participants in the Fitness Movement Challenge.
Mr. Rubaine further added that in the spirit of competition and to keep everyone committed the top 10 groups and top 10 individuals will be announced at the end of every week. He encouraged group leaders to ensure that they submit the information by Tuesday of each week.
Submissions should be made via email at sbrewley-massiah@gov.vg.
"Stop the talk Just Move and Walk," is the slogan for the Fitness Movement Challenge launched on January 18 to promote physical activity within the Territory.
Author