Ministry of Health & Social Development
Release Date:
Thursday, 28 April 2022 - 10:57am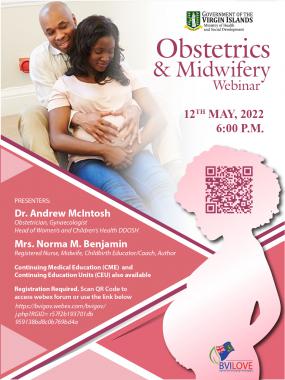 The Ministry of Health and Social Development will be hosting a webinar next month to present Obstetrics and Midwifery providers with an update on guidelines for antenatal care.
Chief Nursing Officer, Ms. Jacinth Hannibal said the Webinar will familiarise providers with the WHO (World Health Organization) and NICE (National Institute for Health and Care Excellence) guidelines, improve childbirth outcomes and create a positive pregnancy experience for childbearing women in the Territory.
According to the Chief Nursing Officer, a positive pregnancy experience is one where physical and sociocultural norms are respected, a healthy pregnancy is maintained for both mother and baby, and an effective transition to positive labour and birth is also achieved.
Ms. Hannibal said while the Territory's maternal death rates are quite low and have been so for decades, stillbirths account for 1-2% of all births and 9-10% of those babies are of low birth weight (under 5lb 8oz).
"While these statistics when looked at in the global context are not necessarily alarming, they point to an area where intervention is necessary to secure the health of our mothers and children," she said.
The free webinar will be held on Thursday, May 12, 6:00 p.m. via Webex and will be facilitated by Obstetrician and Gynecologist Dr. Andrew McIntosh and Registered Nurse Midwife and certified Childbirth Educator Mrs. Norma Benjamin.
All nurse midwives, doctors, birth coaches, and doulas are invited to register by using the link: https://bvigov.webex.com/bvigov/j.php?RGID=r57f2b193701db959138bd8c0b769bd4a CMEs and CEUs will also be available for registrants.
Meanwhile, pregnant women and adolescent girls are encouraged to seek antenatal care from a licenced midwife or doctor as soon as they become pregnant and throughout the pregnancy. A competent health care provider is skilled at identifying risks to both mother's and baby's health and will employ interventions to minimise complications and facilitate a safe delivery
The Government of the Virgin Islands is committed to improving the health of the people of the Territory.
Author