Ministry of Finance
Release Date:
Thursday, 23 August 2018 - 4:30pm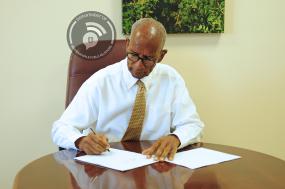 Premier and Minister of Finance, Dr. the Honourable D. Orlando Smith, OBE has signed a contract with the Pan American Health Organisation (PAHO) to strengthen mental health and psychosocial support in disaster management.
As part of the engagement, PAHO will be responsible for building local capacity for mental health and psychosocial support in disaster management within and outside the health sector, developing a community resilience programme and establishing action plans for emergency preparedness and response at the community level.
PAHO will also be responsible for developing monitoring and evaluation tools to assess the impact of the project.
The duration of the consultancy is 18 months and took effect on August 16 at the signing of the agreement. This is another agreement signed under the Caribbean Development Bank (CDB) Rehabilitation and Reconstruction Loan project.
PAHO is the specialised international health agency that works with countries throughout the Caribbean region to improve and protect people's health. The Organisation engages in technical cooperation with its member countries to fight communicable and non-communicable diseases and their causes, to strengthen health systems, and to respond to emergencies and disasters.
For more information about projects funded by the Caribbean Development Bank visit bvi.gov.vg and follow the Government's social media (Facebook, Twitter and Youtube) accounts: @BVIGovernment and Instagram @GISBVI and search for content using #CDBRRL.
The Government of the Virgin Islands remains committed to the rebuilding the BVI stronger, smarter, greener and better.
Author