Ministry of Health & Social Development
Release Date:
Thursday, 19 March 2015 - 4:30pm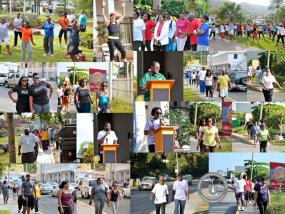 The Virgin Islands community has confirmed that health and fitness is a high priority by their overwhelming response to the Ministry of Health's Fitness Movement Challenge.
Over 40 groups and 54 persons numbering over 425 have committed to achieving 10,000 steps a day for at least five days a week for the next 12 weeks.
Project Coordinator Mr. Jason Rubaine said, "We are pleased by the overwhelming support from the community. Even after the deadline, we had more registrations. The response has been so great that we are already planning other community activities."
The Fitness Movement Challenge was launched with an inaugural walk on Monday, March 16. Persons in attendance embarked on a scenic walk from the grounds of the Central Administration Complex to ZBVI in Baugher's Bay and back to the complex.
Several participants explained why they accepted the Fitness Movement Challenge. The responses included, "Because I care about my health; I'm competitive; for wellness; to adopt a healthy lifestyle; because my health is important; I'm a fitness fanatic; the challenge motivated me; to remain youthful; I want to lose weight; and, to provide morale support."
According to Mr. Rubaine, the level of participation is a step in the right direction. He said he felt encouraged that together a healthier Virgin Islands can be achieved from this campaign.
Mr. Rubaine added that the fitness movement challenge was so widely received that persons from the neighboring island of St. Thomas expressed interest in participating in the campaign. This is a testament to the high priority that people are placing on their health.
"Stop the Talk, Just Move and Walk," is the slogan for the Fitness Movement Challenge launched on March16 to promote physical activity within the Territory. The 12 week challenge will conclude on June 5 with a recognition ceremony.
The Ministry of Health and Social Development has implemented a 10-year strategy to improve the health and well-being of the population and reduce the rising prevalence of non-communicable diseases.
Author