Premier's Office
Release Date:
Wednesday, 14 September 2016 - 12:15pm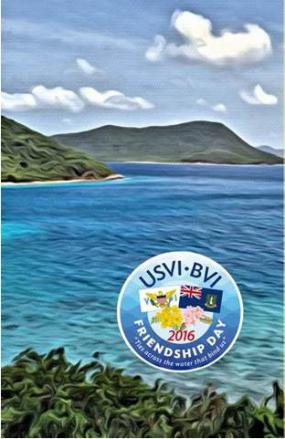 The United States Virgin Islands and the British Virgin Islands will mark the 43rd anniversary of USVI-BVI Friendship Day celebrations on Saturday, September 17.
This year's activities are hosted by Governor of the United States Virgin Islands, the Honourable Kenneth E. Mapp and will take place in St. Thomas, United States Virgin Islands under the theme, "Ties Across the Water that Bind Us."
The event will showcase various aspects of Virgin Islands culture and includes a cultural programme. During the cultural presentation, there will also be sampling of local treats offered by various vendors.
Her Excellency the Acting Governor, Mrs. Rosalie Adams and the Premier and Minister of Finance, Dr. the Honourable D. Orlando Smith, OBE will lead the BVI delegation.
Premier Smith said, "Each year the Virgin Islands looks forward to this annual event that celebrates our common heritage, our strengths and unique ties. We have a shared cultural experience that we want to pass on to the younger generation, and we also want to foster deeper ties going into the future."
Governor Mapp said, "Our islands are linked by geography, history and ancestry." He added, "Few among us cannot claim a family connection in the British Islands. We share many mutual interests and challenges and I'm encouraging even greater collaboration between our governments going forward."
In honour of this year's USVI-BVI Friendship Day, the British Virgin Islands will hoist and fly the flags of the United States of America and the United States Virgin Islands together with the Union Jack and British Virgin Islands flags at the Government Central Administration Complex from sunrise on Friday, September 16 to sunset on Sunday, September 18.
In honour of BVI-USVI Friendship Day Celebrations in 2015 the USVI also flew the British Virgin Islands flag at their Government Houses across the Virgin Islands.
The British Virgin Islands flag was also flown in the USVI in recognition of the convening of the Seventh Inter-Virgin Islands Council Meeting held in St. Thomas on September 2.
The flying of the USA and USVI flags is an effort to strengthen the "ties across the water that bind us" and to bring greater public awareness of the continued relationship and friendship between the governments and the people of the British and United States Virgin Islands as Friendship Day is celebrated this weekend.
Since its inception, activities to mark Friendship Day have evolved into a more relaxed cultural celebration reflective of true friendship, as the two territories alternate hosting the annual celebration. BVI-USVI Friendship Day has been celebrated since 1972 as an opportunity for the governments of the Virgin Islands to appreciate and reflect on the close ties that bind the neighbouring territories and its people.
Author