Ministry of Natural Resources and Labour
Ministry of Health & Social Development
H Lavity Stoutt Community College
Release Date:
Thursday, 7 April 2022 - 3:49pm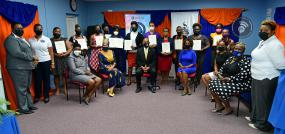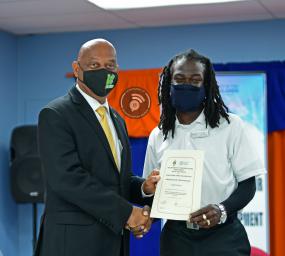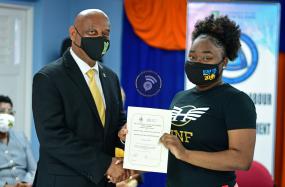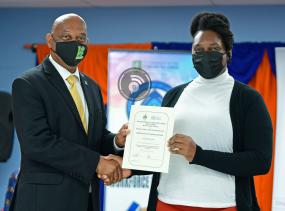 27 graduates of the Employability Skills Training Programme have received their certificates after successfully completing all eight modules of the two-part programme launched in August last year.
Minister for Natural Resources, Labour and Immigration Honourable Vincent Wheatley while addressing the graduates on April 5 commended the graduates for answering the call for training and for completing the programme.
"You the graduates have answered the call, and the rest is history as your story will be told for generations to come. I know that the training has increased the competence of our workforce since 27 persons have been trained and are now better prepared and equipped in the world of work and to add support to the Territory's workforce development needs," Honourable Wheatley said.
Chair of the University of the West Indies (UWI) Open Campus Council, Her Excellency Dr. the Honourable June Soomer, stated that the university was happy to be a part of the initiative and has been involved in the development of the BVI since the 1980s.
Dr. Soomer said, "Professional development and capacity building has been at the heart of the partnership between the UWI Open Campus and the Government of the Virgin Islands. Throughout the evolution of the Open Campus, we have offered programmes relevant to the development of the Territory, whether it was at the level of Professional Certificates, Diplomas, Associate Degrees or Degrees. We now have very large alumni in the country who can boast of their prestigious and practical qualifications."
The training exercise was sponsored by the International Labour Organisation (ILO) and was a collaboration between the Ministry of Natural Resources, Labour and Immigration; the Ministry of Health and Social Development and the H. Lavity Stoutt Community College.
For more details on the Employability Skills Training Programme, visit the Government's website at www.bvi.gov.vg. To view the entire ceremony, please visit the Government's Facebook page at BVIGovernment.
###
NOTES TO EDITORS
Photo 1 of 4: Group photo of the organiser and graduates of the Employability Skills Training Programme
Photo 2 of 4: Minister for Natural Resources, Labour and Immigration Honourable Vincent Wheatley and Craig Donovan
Photo 3 of 4: Minister for Natural Resources, Labour and Immigration Honourable Vincent Wheatley and Abreana Penn
Photo 4 of 4: Minister for Natural Resources, Labour and Immigration Honourable Vincent Wheatley and Khadisha Isaac
(Photo credit: GIS/R. Frazer)
Author