Office of the Governor
Release Date:
Thursday, 8 September 2022 - 6:15pm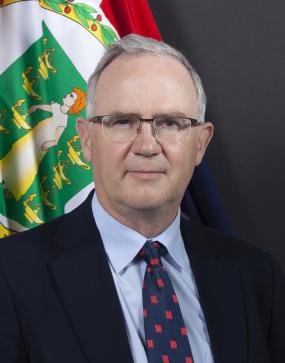 Her Majesty The Queen passed away on 8 September 2022 after 70 years of loyal public service. Further details will issue concerning the funeral, for which the Territory will be invited to observe two minutes' silence in honour of Her Majesty The Queen.
The Union Flag has been half-masted at the Governor's Office and Government House and will remain at half-mast until the day after the funeral, except during the Proclamation of the new Sovereign, when the flags will be temporarily raised. BVI Government offices are also lowering flags as a mark of respect.
Condolence Book
Leading up to the funeral, the Governor has opened a book of condolence at the Old Government House Museum. The book of condolence will be open to the public from 11am to 3 pm on Friday 9 September, and then 10am until 3 pm on Saturday 10 September and each working day until the day after Her Majesty's funeral (date to be announced).
Visitors should enter the museum via the pedestrian gate on Sir Francis Drake Highway.
Condolence books will be made available on the Sister Islands. Those wishing to sign the books on the Sister Islands should contact their District Officer for further details.
A virtual condolence book is also available online at www.royal.uk
The Palace does not expect, nor would encourage, the sending of a wreath or flowers. If people wish to do so, a donation to a charity would be welcome. Information on charities with which The Queen was involved are available at www.royal.uk
Gun salute, Friday 9 September
As a mark of respect to Her Majesty The Queen, a gun salute will be fired at 12.00noon on Friday 9 September at Queen Elizabeth II Park. Members of the public are welcome to the ceremony, which will start at 11.45am sharp. The event will be live-streamed by GIS.
Proclamation of the New Sovereign, Sunday 11 September
The Proclamation of the new Sovereign will be marked in the British Virgin Islands on Sunday 11 September. There will be a short ceremony at Government House, and a further gun salute shortly after 3pm. The ceremony will be live-streamed on GIS.
Further details, including on the funeral, will be released in due course.