Department of Agriculture and Fisheries
Release Date:
Tuesday, 3 November 2015 - 4:30pm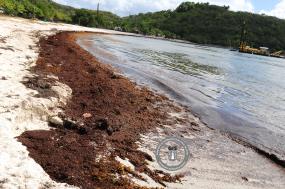 The Government of the Virgin Islands is working on the development of a comprehensive policy and implementation strategy to address the current influx and potential future influxes of Sargassum.
Deputy Premier and Minister for Natural Resources and Labour, Dr. the Honourable Kedrick Pickering, in a statement at the House of Assembly meeting on November 2, said Government is also taking active balanced steps to recognise the challenges and minimise the impact of the Sargussum seaweed, while maximising its benefits.
Minister Pickering said the Conservation and Fisheries Department has collaborated with other Government agencies and community organisations to execute the ongoing public education campaign and specific efforts, including a workshop, are being planned to provide the tourism sector with practical information for action.
Honourable Pickering said the department is monitoring and conducting surveillance of the coastline to determine the extent of Sargassum landings and areas of priority and will continue its efforts to clean-up impacted coastal areas.
He added, "Where it is absolutely necessary and appropriate, the Government is also coordinating clean-up efforts with the aid of heavy machinery. This has already happened for instance at Handsome Bay, Virgin Gorda."
The Deputy Premier further stated that production of fertilizer from collected Sargassum is currently being piloted by the Department of Agriculture.
He said a sensible response to the Sargassum influx is not an attempt to completely rid the Territory of the seaweed. "This is not only impractical and financially unfeasible, but environmentally unsound as some level of Sargassum is a natural and important part of a healthy, balanced environment," he added.
The Minister encouraged community support stating that the only way to rise to this challenge is through a true community response and partnership among the public, businesses and Government.
The Ministry of Natural Resources and Labour endeavours to effectively administer the Territory's natural resources in a manner that ensures long-term sustainability.
Author