Premier's Office
Release Date:
Tuesday, 20 October 2020 - 5:42pm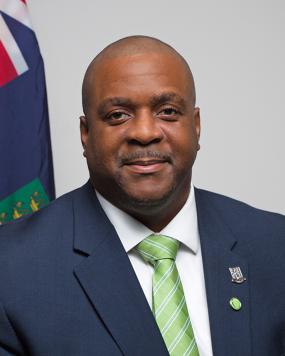 Premier and Minister of Finance Honourable Andrew A. Fahie will lead his Government to Jost Van Dyke for a community meeting with the residents on Thursday, October 22.
According to Premier Fahie, the meeting will give the Government an opportunity to ascertain residents' concerns and to discuss, share ideas and plan for strengthening that community and the overall Territory.
"We look forward to hearing from members of the Jost Van Dyke community. I always count it important to meet with residents of the Sister Islands to discuss their concerns and solutions because we're in this together, and BVILOVE is our people of Jost Van Dyke," Premier Fahie said.
Premier Fahie said that he will be joined by Deputy Premier and Minister for Education, Culture, Youth Affairs, Fisheries and Agriculture, Dr. the Honourable Natalio D. Wheatley; Minister for Health and Social Development, Honourable Carvin Malone; Minister for Natural Resources and Labour, Honourable Vincent O. Wheatley; Minister for Transportation, Works and Utilities, Honourable Kye Rymer; Junior Minister for Tourism, Honourable Sharie B. deCastro; Junior Minister for Trade and Economic Development, Honourable Shereen Flax-Charles; Deputy Speaker and Territorial At-Large Representative, Honourable Nevllie Smith; and Representative for Sixth District, Honourable Alvera Maduro-Caines.
The public meeting will be held at Foxy's Restaurant at 11:00 a.m.
The Government of the Virgin Islands remains committed to ensuring that the people of the Virgin Islands are given an opportunity to contribute to the development of the Territory.
Author