Ministry of Communications and Works
Release Date:
Thursday, 30 April 2015 - 5:15pm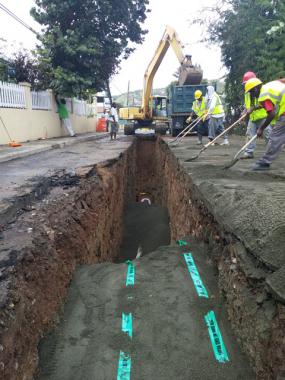 The Ministry of Communications and Works is implementing a solution to eliminate dust in the East End area that has been caused by the on-going National Sewerage Project.
Minister for Communications and Works, Honourable Mark Vanterpool has stated, "I want the people to know that we have heard their concerns and we are doing something about it."
Beginning this week, one inch of asphalt will be placed on the road temporarily to compact the loose dirt that has been building up on the surrounding homes. The ongoing National Sewerage Programme in East End is expected to be completed in the next three months.
The Ministry apologises for any inconvenience that has been caused and thanks the residents for their patience as Government works swiftly towards the completion and delivery of a working National Sewerage system.
Author