Premier's Office
Release Date:
Tuesday, 31 January 2017 - 9:14am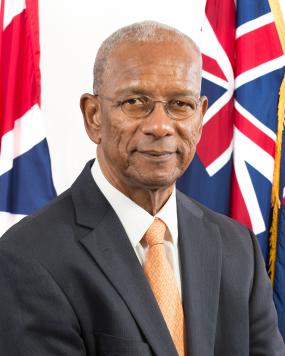 The Government of the Virgin Islands is ensuring that the sister Islands are included in the development plan as it positions the Territory for the future.
Premier and Minister of Finance, Dr. the Honourable, D. Orlando Smith, OBE in his 2017 Budget Address presentation themed: 'Charting the Course: Positioning the Virgin Islands for the Future', outlined several developmental initiatives for the sister islands. These, he said, included the commencement of restoration work on the North Sound Post Office on Virgin Gorda as well as maintenance on lookout sites and beach bohios.
The Premier said, "The Virgin Gorda airport is in the process of being air conditioned to enhance the guest experience. Work on this facility will continue in 2017 with the gracious assistance of additional funding from the owners of Rosewood Little Dix Bay."
The Honourable Premier stated that despite a number of frontal challenges to the Territory's tourism sector in 2016, including the closure of hotels including Rosewood Little Dix Bay in Virgin Gorda for redevelopment, Government achieved its major objectives.
Premier Smith said, "Little Dix Bay will be reopened in December of this year; the issues relating to the closure of Biras Creek have been satisfactorily resolved and an improved YCCS will reopen in a few weeks. As a destination, we also continued to receive industry and worldwide tourism accolades with Virgin Gorda being recently named the "Best Island in Caribbean" by Travel and Leisure."
The Honourable Premier said Government is continuing its work on signage and guest amenities and has introduced the Jost Pork Festival as another major culinary event on the island of Jost Van Dyke.
He said major emphasis was also directed to Anegada where several projects were either enhanced or completed. These included the Fisherman's Wharf Rehabilitation, major upgrade of the Botanical Gardens, Lookout Tower at the Flamingo Pond and an enhanced visitor centre at the ferry terminal.
Government has also pledged to continue to prepare the Territory's students to be world class. The Premier said that works will continue this year at the Bregado Flax Educational Centre in Virgin Gorda and the Elmore Stoutt High School to divide the campus into junior and senior high schools. Classroom spaces, he said will be added and the campuses will be made safer and more comfortable to enhance the teaching/learning environment.
The Premier further added that Government will continue refurbishment works in Anegada, Jost Van Dyke and North Sound Clinics in 2017, and that the construction of the new Nurse Iris O'Neal Medical Centre is on track for completion this year.
The Government of the Virgin Islands continues to engage in development across the Territory to ensure improved standard of living for residents and visitors alike.
Author