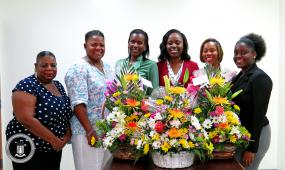 Permanent Secretary in the Ministry of Health and Social Development Mrs. Petrona Davies and the staff at the Office of Gender Affairs are featured with the honourees in the campaign to pay tribute to women in outdoor professions.
The honourees are Shaina Smith in the field of Project Management and Engineering, Amorrell Newton in the field of Construction and Dr. Cassander Titley-O'Neal in the field of Environmental Marine Biology.
The women werecommended for their outstanding work and encouraged to continue to be an inspiration to the younger generation. The office launched its month long 'Be Bold for change' campaign in commemoration of International Women's Day.International Women's Day is observed annually on March 8.
(Photo Credit: Franklyn Skerrit/GIS)
Author
Ministry or Department Associated with this News Article: