Department of Disaster Management
Release Date:
Friday, 11 August 2017 - 1:20pm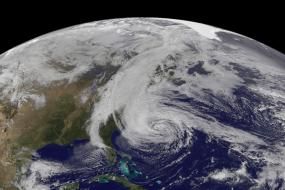 The number of named storms and major hurricanes predicted for the 2017 Atlantic Hurricane Season has increased.
The National Oceanic Atmospheric Administration (NOAA) in their updated 2017 hurricane season outlook issued on August 9, said this season has the potential to be extremely active as forecasters are now predicting a higher likelihood of an above-normal season with an increase in the number of named storms and major hurricanes.
NOAA's forecasters have indicated that there is now a 60 percent chance of an above-normal season; an increase from their 45 percent predicted in May. The predictions now call for 14 to 19 named storms, of which two to five could be major hurricanes. Earlier predictions named 11 to 17 storms of which two to four could be major hurricanes. The initial prediction of five to nine hurricanes overall, remains unchanged.
Lead seasonal hurricane forecaster at NOAA's Climate Prediction Center, Gerry Bell explained the factors contributing to the increase.
He said, "The wind and air patterns in the area of the tropical Atlantic and Caribbean where many storms develop are very conducive to an above-normal season. This is in part because the chance of an El Nino forming, which tends to prevent storms from strengthening, has dropped significantly from May."
Dr. Bell added that there is warmer water across the tropical Atlantic than previously predicted.
Meantime, Colorado State University's hurricane researchers have maintained their above-average Atlantic hurricane season prediction. They have cited neutral El Nino conditions and a warmer than normal tropical Atlantic as the main reasons for the above-average prediction.
To date, the season has produced six named storms—Arlene, Bret, Cindy, Don, Emily and Franklin. The total number of named storms in an 'average' Atlantic hurricane season is 12, of which six become hurricanes, including three major hurricanes.
Apart from named storms and hurricanes, other weather systems such as tropical waves could pose a threat to the region and continue to be monitored.
Director of the Department of Disaster Management (DDM) Sharlene DaBreo continues to emphasise the need for everyone to remain vigilant and prepared for these weather systems.
The Atlantic Hurricane Season runs from June 1 to November 30.
Photo Attached: Satellite Images of Hurricane (NOT an image of current Atlantic conditions). Photo Credit: National Oceanic Atmospheric Administration
Author