Ministry of Health & Social Development
Release Date:
Tuesday, 7 April 2015 - 5:00pm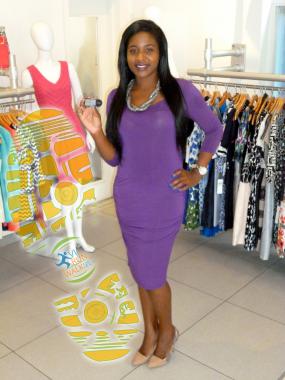 The Ministry of Health and Social Development has teamed up with UMI Fashions to present the Fitness Movement Challenge "Top Stepper" competition.
According to Programme Coordinator, Mr. Jason Rubaine persons desirous of being the "top stepper" will have to accumulate no less than 20,000 steps within a 24 hour period to qualify.
He said that the ministry partnered with Ms. Deborah O'Neal of UMI Fashions on this initiative which serves as inspiration for people who have accepted the Fitness Movement Challenge.
People signed up for the Fitness Challenge can participate in the competition by liking UMI Fashions' Facebook Page. Mr. Rubaine explained that people would have to monitor UMI's page daily to see the fitness movement challenge logo. Once the icon is spotted, the 24 hour countdown begins.
He said, "The first person to come to UMI Fashions with their pedometer showing 20,000 steps for the said period of time will be awarded a free outfit."
He added that the pedometer and its results will have to be verified by the team at the Ministry of Health and Social Development before the person is deemed eligible for the prize.
The Ministry has also formed a partnership with Sensus Gym to provide another avenue for persons who wish to accumulate 10,000 steps. He explained that Ms. Lisa Adamson, owner and manager of Sensus Gym will conduct free Zumba classes to all registered participants of the Fitness Movement Challenge. The first session takes place on Wednesday, April 8 from 6:00 p.m. to 7:00 p.m. at the Multipurpose Sports Complex.
These initiatives are part of Government's ongoing national strategy to build a healthier Virgin Islands. The Fitness Movement Challenge titled "Stop the talk Just Move and Walk," was launched on January 18, 2015 to promote physical activity within the Territory.
Author