Ministry of Finance
Release Date:
Thursday, 14 January 2016 - 9:15am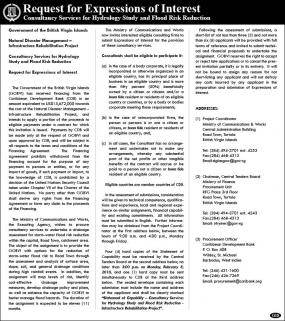 The deadline for expressions of interest for consultancy services, to undertake a drainage assessment for storm-water flood risk reduction within the capital, Road Town catchment area has been extended to February 8.
The duration of the assignment is expected to be 11 months and interested and eligible consulting firms are invited to submit Expressions of Interest for the provision of these consultancy services. Funding will be provided through proceeds received from the Caribbean Development Bank.
The objective is to provide the Government with options for the reduction of storm-water flood risk to Road Town through the assessment and analysis of surface area, slope, soil, and general drainage conditions during high rainfall events.
The assignment will also map levels of risk, identify cost-effective drainage improvement measures, develop drainage policy and plans as well as enhance the capacity of the Government to better manage flood hazards.
Consultants shall be eligible to participate if, in the case of a body corporate, it is legally incorporated or otherwise organised in an eligible country, or has its principal place of business in an eligible country, and is more than 50 percent beneficially owned by a citizen or citizens, and/or a bona fide resident or residents of an eligible country or countries.
Alternatively, in the case of unincorporated firms, eligible person or persons must be a citizen or citizens, or bona fide resident or residents of an eligible country.
Only member countries of the Caribbean Development Bank are considered eligible to submit tenders.
Consideration will be given to technical competence, qualifications and experience, local and regional experience on similar assignments, financial capability and existing commitments in the assessment of submissions. All information must be submitted in English.
Further information may be obtained from the Project Coordinator, Ministry of Communications and Works, Central Administration Building, Road Town, Tortola, between the hours of 9:00 a.m. and 4:00 p.m., Monday through Friday. Interested persons may also email dglasgow@gov.vg.
Four hard copies of the Statement of Capability must be received by the Central Tenders Board at the Ministry of Finance, Procurement Unit, Rita Frett Georges Place, Third Floor, Waterfront Drive, Tortola, British Virgin Islands, no later than 3:00 p.m. on February 8. One hard copy must be sent simultaneously to the Procurement Officer, Caribbean Development Bank, P. O. Box 408, Wildey, St. Michael, Barbados, West Indies. Queries may be emailed to procurement@caribank.org.
The sealed envelope containing each submission must include the name and address of the applicant and shall be clearly marked "Statement of Capability – Consultancy Services for Hydrology Study and Flood Risk Reduction - Infrastructure Rehabilitation Project".
Following the assessment of submissions, a short-list of not less than three and not more than six applicants, will be provided with full terms of reference and invited to submit technical and financial proposals to undertake the assignment. The Government reserves the right to accept or reject late applications or to cancel the present invitation partially or in its entirety.
The Government will not be bound to assign any reason for not short-listing any applicant and will not defray any costs incurred by any applicant in the preparation and submission of Expressions of Interest. For more information, interested persons can telephone the Procurement Coordinator Mrs. Ishma Rhymer at the Procurement Unit at 468-3701 ext. 4243 or 4244.
Author