Ministry of Transportation Works and Utilities
BVI Electricity Corporation
Release Date:
Wednesday, 12 October 2016 - 4:55pm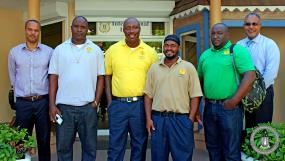 The British Virgin Islands Electricity Corporation (BVIEC) has sent a four member team to provide hurricane restoration support in the Bahamas, as a result of the damage caused by Hurricane Matthew.
Minister for Communications and Works, Honourable Mark Vanterpool said, "I am pleased that we can be of assistance to our Caribbean neighbours and that we are able to respond swiftly once again. I am confident that their efforts will bring relief. We should all keep them in our prayers for the remainder of the Hurricane Season."
The contingent is comprised of Foreman of Transmission and Distribution, Mr. Trevor Stevens; and Electrical Linesmen Messrs. Toriano King, Damien Richardson and Ronald Baird. The team left today, October 12, and will arrive in Nassau later tonight. Teams will be deployed upon arrival by the Bahamas Electricity Corporation to the various islands needing assistance.
BVIEC General Manager, Mr. Leroy Abraham said that the team will be assisting the Bahamas Electricity Corporation with the restoration of electricity to the islands.
He said, "The electrical infrastructure in the Bahamas is in a state of disrepair. The guys are going to put back up poles, put back on lines and essentially restore those persons' lives to normal, because without electricity we all know that lives are significantly impacted."
The BVIEC has provided relief support to other countries for over 20 years.
Mr. Abraham said that several resources in the region are being used, including resources from the United States of America due to the severity of the damages on the island.
The request comes from the Bahamian Utility Company through the Caribbean Electric Utility Services Corporation (CARILEC), of which the BVIEC is a member. In the case of a similar occurrence here in the Territory, CARILEC will provide the same relief and support upon request. The team is expected to be in the Bahamas for three to four weeks. Other countries providing relief support include the Jamaica Public Service Company and the Cayman Utilities Corporation.
According to weather.com, when Matthew reached the Eastern Caribbean, it became a hurricane and rapidly intensified. Its peak intensity was late September 30 into early October 1 when it reached Category 5 strength with 160 mph winds. Hurricane Matthew arrived in the Bahamas on Thursday, October 6.
Author