Ministry of Health & Social Development
Release Date:
Thursday, 15 September 2016 - 4:49pm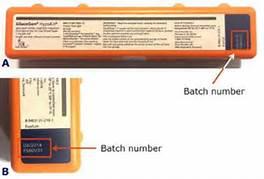 The Ministry of Health and Social Development is notifying diabetics in the Territory that a recall has been issued for six batches of GlucaGen HypoKit by its manufacturer Novo Nordisk Inc.
Glucagon is used to treat hypoglycemia or low blood sugar in people with Diabetes and if left untreated can lead to unconsciousness and seizures which can be fatal.
Chief of Drugs and Pharmacuetical Services, Mrs. Gracia Wheatley Smith explained that the product is being recalled due to detached needles on the syringe in the kit.
She explained, "This means that persons using this product will not be able to administer the medication which would have severe consequences."
Mrs. Smith further explained that if the blood glucose levels are not quickly restored, continuing hypoglycaemia can lead to a decline in brain glucose levels which manifests through symptoms including cognitive dysfunction, sweating, tremors, convulsions and eventually coma or death.
Patients and care givers are asked to check if they have the kit with the following batch numbers: FS6X270, FS6X296, FS6X538, FS6X597, FS6X797, and FS6X875 all with the expiry date of 09/30/2017. The batch number can be found in the black box at the bottom of the GluvaGen Hypokit label on the kit.
Mrs. Wheatley Smith is advising anyone who has a kit with any of those numbers to return the kit to the place of purchase for a replacement if the purchase was made locally. Alternatively they can call 1-888-840-1137 from Monday to Friday between the hours of 8:30 a.m. and 6:00 p.m. to find out how to return the product if purchase was made overseas.
She added, "I'm also asking health facilities to check their inventory against the recalled list and if any of the faulty kits are found, they can place them in quarantine and seek replacement kits from the place of purchase.
The Ministry of Health and Social Development is committed to ensuring that all aspects of the environment with the potential to negatively impact health are managed efficiently to enable all persons in the BVI to attain and maintain optimal health and social well-being.
Author