Office of the Deputy Governor
Release Date:
Monday, 9 April 2018 - 5:38pm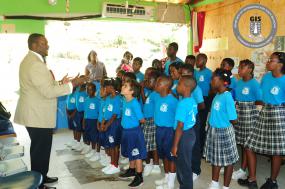 Deputy Governor, Mr. David D. Archer, Jr. officially visited Jost Van Dyke on April 9 as he continues his familiarisation tours to the Sister Islands.
Mr. Archer, Jr. toured government facilities and interacted with public officers to get a first-hand view of working conditions on the island.
He toured the Jost Van Dyke Administration Building and held dialogue with public officers from the Customs, Immigration, Water and Sewerage and Fire Services.
The Deputy Governor thanked the public officers and expressed his gratitude for their services rendered in less than ideal conditions. He also visited various businesses.
Principal Lavern Blyden and the staff and students of the Jost Van Dyke School hosted a special assembly to welcome the Deputy Governor and escorted him on a tour around the campus. His message to the students was they were already great and can be even greater.
Mr. Archer, Jr. visited two of the island's most senior residents, sisters Joyce and Edith Chinnery. Sister Islands Programme Coordinator Mr. Vincent Wheatley was accompanied the Deputy Governor on the official tour.
The Deputy Governor's official visit to Jost Van Dyke follow on the heels of the official launch of the Public Service Transformation Initiative on Monday, March 26 and his official visit to Virgin Gorda on March 27.
The Deputy Governor assists the Governor in the exercise of his functions in matters of governance, national security, public administration and court administration.
Author