Ministry of Health & Social Development
Release Date:
Tuesday, 29 September 2020 - 8:16am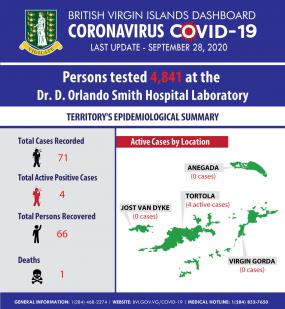 Minister for Health and Social Development Honourable Carvin Malone has reported a significant drop in active cases of COVID-19 with 66 recoveries now confirmed.
Minister Malone further reported that as of September 28, of the 71 total positive COVID-19 cases recorded, the active cases now stand at 4 and one death. The total number of persons tested for COVID-19 virus stands at 4,841.
Members of the public are urged to continue to report any suspicious activity by dialing 311 and to adhere to all safety measures such as hand hygiene, cough etiquette, wearing face masks in public, physical distancing and minimising social gatherings.
Persons who are experiencing any symptoms related to COVID-19 are reminded not to visit any healthcare facility but are encouraged to contact the Medical Hotline at 852-7650 for an assessment and an appointment for COVID-19 testing. Common symptoms include fever, cough, headache, fatigue, loss of taste or smell, sore throat, muscle aches, or difficulty breathing.
The Government of the Virgin Islands remains committed to keeping the public informed of all significant developments related to COVID-19. For more information on the Territory's COVID-19 response please visit the website www.bvi.gov.vg/Covid-19.
Author