Office of the Governor
Ministry of Communications and Works
BVI Ports Authority Ltd
Release Date:
Thursday, 30 April 2015 - 5:15pm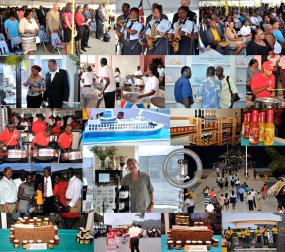 Festivities for the completion of the expansion of the Cruise Pier peaked yesterday with fireworks as the Territory joined with Government officials in celebrating the completed project
Governor His Excellency John S. Duncan said, "This is only part of a much wider effort to renew and restore our historic sites, from the former prison on Main Street, the Quaker Graveyards and to the African Church in Kingstown. I hope the whole community will now join in this effort, to build a living narrative of the remarkable people who have lived and live in this Territory."
Governor Duncan added, "We are privileged in Road Town to have the unique historic site of the former government house no other Caribbean Island is able to give tourist the opportunity for behind the scenes look at how Governors and administrator lived and worked and where British Royalty stayed."
Minister for Communications and Works, Honourable Mark Vanterpool, in his remarks declared that ownership of the Cruise Pier belongs to the people of the Virgin Islands.
The Minister said, "I am also proud to be a part of this Government that continues to ensure an increase in overnight and cruise tourism visitors… This is Your Government at Work."
Managing Director for the BVI Ports Authority, Mr. Claude Skelton Cline, welcomed Virgin Islanders to the future and explained what the construction of the projects means.
"For us at the BVI Ports Authority we were not just building buildings, we were constructing a future. For us this is not about bricks and mortar, this is our future," Mr. Cline said.
He added, "The Norwegian Cruise Line will visit our shores once a week, every week, every Wednesday throughout the entire year. This development is a game changer. It is no longer a high season or a slow season. For the first time in the history of these British Virgin Islands we will have 52 week/year cruise tourism."
Local vendors, musicians, dancers, royalty and Virgin Islanders from all four corners of the Territory gathered to become one on the auspicious and festive occasion.
Earlier in the day, tourists were greeted by the BVI Ultimate Sky Dancers (Mocko Jumbies) at Craft Alive and the steel pan music played throughout the day.
Phase I of the Cruise Pier Expansion is now complete and many local contractors and sub-contractors have benefitted and will continue to benefit from the project as Phase II, Tortola Pier Park, progresses.
Author