Governor's Group
Office of the Deputy Governor
Department of Disaster Management
Release Date:
Wednesday, 4 July 2018 - 3:28pm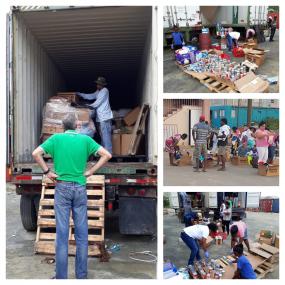 The Rotary Club of the BVI partnered with the Adventist Development and Relief Agency (ADRA) to carry out what has been called another successful community clothing drive.
The drive was held at the Seventh Day Adventist Church in Fat Hogs Bay on July 1 and over twenty-five persons from Fat Hog's Bay to the Long Look community received provisions for men, women as well as children. Clothing items including beddings and towel for household needs were also distributed.
The clothing was provided by the Tortola Rotary Club, and the distribution process was assisted by ADRA. The initiative was organised to further assist those persons who are still in need of items following the passage of the 2017 hurricanes.
President of the Rotary Club of Tortola, Ms. Lynette Harrigan said, "One of Rotary's strategic focus over the last several years has been working with other organisations to do even more good in the world. The Rotary Club of the BVI's work with ADRA on this distribution and also in working with them on the SMART Communities initiative are prime examples of banding together during times of need to have a greater impact for our communities."
Director of ADRA, Mr. Jacob Adolphus, said he was impressed with the turnout and that he found the initiative to be a great success. "In a matter of an hour and a half all the clothing was distributed throughout the Fat Hog's Bay and Long Look communities. It was a very good initiative and we were really satisfied with the turnout in the community. We look forward to doing another drive as soon as possible," he stated.
The Rotary Clubs and ADRA are planning a number of other key initiatives to assist in getting communities ready for the peak of the 2018 Hurricane Season. The local Non-Government Agencies are being encouraged to work through a partnership model that recognises that they can achieve change by working together.
Author