BVI Health Services Authority
Release Date:
Thursday, 17 September 2020 - 5:08pm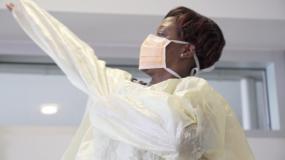 Employee Health Manager at the BVI Health Services Authority Mrs. Helen Frett has said that the authority has employed a number of strategies to improve the health and safety of its staff and patients as it joins the rest of the world in observing World Patient Safety Day.
Mrs. Frett said keeping patients, staff and visitors safe through preventative programmes is a of the focus of the BVI Health Services Authority as the world continues grapple with the impact of COVID-19.
"We have been focusing on safety, risk management and infection prevention and control measures," Mrs. Frett stated. She added, "We have educated the staff on a variety of topics including proper hand hygiene, the proper use of personal, protective equipment (PPEs) and the protocols for the prevention of COVID-19."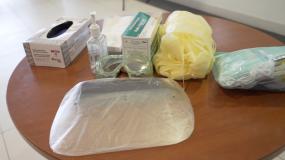 The Employee Health Manager stated that other strategies used to improve employee and patient safety include screening of all visitors for signs of COVID-19 before entering into the building, ensuring that adequate PPEs are available for staff and encouraging staff who are ill not to come to work and to report symptoms of any communicable diseases.
She added that COVID-19 remains a challenge but the authority continues to strive to ensure that its staff is trained and has access to the tools they need to be effective and safe.
"We have also implemented social distancing measures, mandated the use of masks, reduced and in some cases restricted visitation, allowed non-essential staff to work remotely and implemented telemedicine to manage non-urgent patient care, all in an effort to promote patient safety," Mrs. Frett explained.
The Employee Health Manager further added that Health workers play a very vital role in the health of patients and the BVI Health Services Authority continues to do its part to educate, provide necessary tools and equipment and foster a clean and healthy environment for staff and patients.
The overall objectives of World Patient Safety Day which is being observed today are to enhance global understanding of patient safety, increase public engagement in the safety of health care and promote global actions to enhance patient safety and reduce patient harm. This year's observance is being held under the theme, "Health Worker Safety: A Priority for Patient Safety".
BVI Health Services Authority is committed to delivering excellent, compassionate, client centered healthcare across the Territory.
Author