Premier's Office
BVI Finance
Release Date:
Wednesday, 22 June 2016 - 10:45am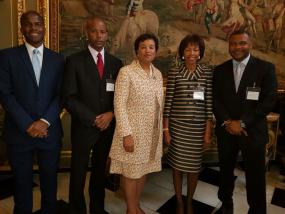 The British Virgin Islands has called for a level playing - field internationally between onshore and offshore jurisdictions.
Permanent Secretary in the Premier's Office, Mr. Brodrick Penn made the call at a meeting of International Finance Centres (IFCs) that are also small island developing states (SIDS) in the Commonwealth.
Mr. Penn, while speaking on the role of Commonwealth in relation to IFCs said, "The Commonwealth as an institution can play an important role in advocating for a level playing field in the financial services sector in support of its smaller jurisdictions."
The meeting was held from June 20 to June 21 and was organised by the Commonwealth Secretariat. It included the BVI and other jurisdictions and discussions were held on the importance of International Finance Centres to the world economy, along with the positive role the Commonwealth can play as an advocate for small jurisdictions and a platform to amplify their voice in international fora.
The sessions also focused on correspondent banking and de-risking, the Panama Papers, base erosion and profit shifting and blacklisting.
The Commonwealth Secretary General, Right Honourable Baroness Patricia Scotland QC addressed the participants and reiterated the Commonwealth's support for its small states.
The Territory was represented at the meeting by a delegation comprised of Financial Secretary, Mr. Neil Smith, Permanent Secretary in the Premier's Office, Mr. Brodrick Penn; Director of BVI London Office and UK/EU Representative, Mr. Benito Wheatley and Interim Director of BVI Finance, Mrs. Lorna Smith.
The BVI actively participates in the Commonwealth which reflects the government's policy of strengthening its international affairs.
Author