Department of Disaster Management
Release Date:
Friday, 2 June 2017 - 5:04pm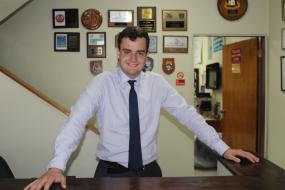 A postgraduate student from the University of Portsmouth, England is in the British Virgin Islands conducting research on the Territory's response mechanism for coping with a mass casualty event involving locals and tourists.
Mr. Kieron Chapman is on a four-week internship programme with the Department of Disaster Management (DDM).
While in the Territory, Mr. Chapman will assess emergency plans, undertake literature reviews and conduct interviews and questionnaires with key stakeholders including members of the public and tourists.
He explained, "I am collecting data that will help us to better understand the vulnerability of locals and tourists to hazard impacts which can result in multiple injuries and disasters in the Territory."
Director of the Department of Disaster Management, Sharleen DaBreo said the focus of Mr. Chapman's research will provide us with additional data which will inform future programmes and initiatives at the DDM.
She said, "We are pleased to have Mr. Chapman as a part of our team and we look forward to receiving his report which will be analysed and reviewed along with our existing data to inform future decisions on preparedness for mass casualty emergencies."
Ms. DaBreo noted that the partnership with the University of Portsmouth has been mutually beneficial.
She said, "We have been accepting interns from the University of Portsmouth for more than six years and have benefited from the students good research work which supplements the department's disaster management programme. At the same time the students gain valuable work experience which reflects favourably on their future job search".
At the end of his internship, Mr. Chapman who is studying 'Crisis and Disaster Management' will be expected to present a report which documents his findings and methodology.
The internship programme is self-funded and all data collected will be presented to the Government of the Virgin Islands.
Photo attached: Intern with the DDM Kieron Chapman. Photo Credit: Department of Disaster Management
Author