Ministry of Natural Resources and Labour
Release Date:
Thursday, 27 April 2017 - 3:12pm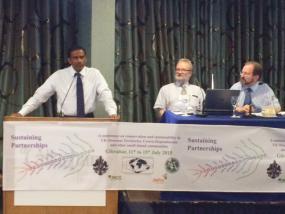 Deputy Premier and Minister for Natural Resources and Labour, Dr. the Honourable Kedrick Pickering is away from the Territory, April 25 through 28, attending the UK Overseas Territories Ministers of the Environment Meeting in Alderney.
The Minister is to join other attendees in discussions including EU support; Climate Change; international environmental agreements; unique biodiversity and natural heritage; alternative funding sources; safeguarding environmental protection; and review of progress in implementing the Environment Charters.
Minister Pickering said that it was important that small islands band together to achieve common environmental goals. "One of our goals is always that we achieve funding from various resources to assist in preparing us for possible disasters or environmental damage. We also need to be updated on the status of progress made in other nations so that our Virgin Islands can benefit from the lessons learned in jurisdictions facing similar environmental challenges", he said.
The Environmental Meetings included representatives from several Overseas Territories including Gibraltar, Alderney. Montserrat, Turks & Caicos, Isle of Man, British Virgin Islands, Cayman Islands, Anguilla, Falkland Islands, and Tristan da Cunha.
Minister Pickering is accompanied by Dr. Sandra Besson, Deputy Director, BVI London Office.
The Government of the Virgin Islands aims to advance efforts to protect, conserve and manage our environment while pursing the development of our Territory.
Photo Attached
(L-R) Deputy Premier Dr. the Honourable Kedrick Pickering, UKOTCF Conference Leader Mike Pienkowski and Gibraltar Minister for the Environment - Environmental Meetings JULY 2015 (Photo Credit/Benito Wheatley)
Author