Premier's Office
Release Date:
Friday, 6 December 2019 - 1:27pm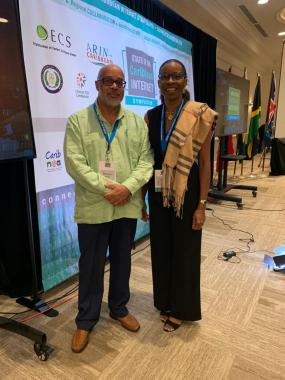 Director General of the Organization of Eastern Caribbean States (OECS) Dr. Didacus Jules and Director of Communications for the Government of the Virgin Islands, Mrs. Arliene T. Penn are pictured at the Inaugural 2019 State of the Caribbean Internet Symposium in St. Kitts.
The Symposium was hosted by the OECS in collaboration with the Eastern Caribbean Central Bank and the Government of the Federation of St. Kitts and Nevis. The event was held from December 4 to 5 under the theme, "Accelerating Development of the Caribbean Internet Economy and Society". Topics discussed include interconnection and interdependencies between sectors, institutions, policies and human resources.
The symposium also presented a holistic view of issues, trends and opportunities impacting adoption and development of the internet in the Caribbean. Successful models and practical strategies were also identified for accelerating Internet-enabled growth and development.
Author