Ministry of Health & Social Development
Release Date:
Friday, 21 August 2020 - 10:44pm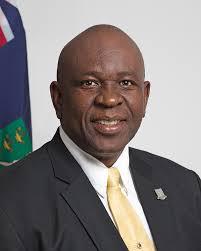 Minister for Health and Social Development Honourable Carvin Malone has confirmed that there are nine new positive cases of COVID-19 in the British Virgin Islands bringing the total active cases to 12 and the total reported cases to 21.
During the official announcement this evening, Health Minister Malone stated that following the investigations of Case 12 reported on August 19, ten additional close contacts were quarantined and tested of which nine of those were positive for the virus that causes COVID-19. While none of the primary contacts are exhibiting symptoms at this time, case 12 remains hospitalised.
The total number of cases recorded in the Territory now stands at 21; with twelve (12) active cases, eight (8) recoveries, and one (1) death, after testing a total of 2092 individuals in the local laboratory of the British Virgin Islands Health Services Authority.
Health Minister Honourable Malone highlighted primary locations of interest saying that the cases that were confirmed today are mainly located on the Eastern end of Tortola, and on the island of Anegada.
Honourable Malone said, "Our findings point to secondary and tertiary contacts residing in several other communities throughout the Territory. Some of these contacts have been linked to heavily patronised night spots and festive events that took place earlier this month.
Local health teams continue to carry out contact tracing and testing in an effort to mitigate and contain the spread of the virus and community screening will take place on Anegada, Virgin Gorda as well as in East End/Long Look and Sea Cow's Bay in the coming days.
Members of the public are urged to report any suspicion or evidence of people smuggling into the Territory to the relevant authorities including the Royal Virgin Islands Police Force, Her Majesty's Customs or the Immigration Department as illegal entry provides an avenue for COVID-19 to enter and spread among the community.
Persons who are experiencing symptoms related to COVID-19 are also encouraged to contact the Medical Hotline at 852-7650 to schedule an appointment for testing. Common symptoms include fever, cough, headache, fatigue, loss of taste or smell, sore throat, muscle aches, or difficulty breathing.
The Government of the Virgin Islands remains committed to keeping the public informed of all significant developments related to COVID-19. For more information on the Territory's COVID-19 response please visit the website www.bvi.gov.vg/Covid-19.
Author