BVI Finance
Release Date:
Wednesday, 30 September 2015 - 12:15pm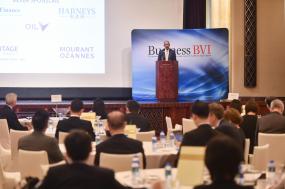 BVI House Asia has celebrated its second anniversary in Hong Kong and Premier and Minister of Finance, Dr. the Honourable D. Orlando Smith, OBE is pleased that the Territory remains a trusted partner in the Asia Pacific Region.
In an address to business leaders at the Business BVI Asia 2015 Second Annual Regional Conference in Hong Kong, Premier Smith stated, "We are still in the right place and at the right time. The BVI is immensely proud and fortunate to have been working with Asian businesses and individuals as they achieved economic success and Asia experienced incredible growth over the last 25 years."
The Honourable Premier said Asia will continue to make its mark with vitality, financial success and innovation. He added that despite some current concerns, the economic experts predict a reasonably good outlook for Asia's future.
"The BVI remains at the forefront of international corporate structuring for cross-border transactions and investing worldwide," Premier Smith said.
Premier Smith stated that the Territory's characteristics, such as a familiar legal system based on English common law, internationally compliant regulations and tax neutrality, make the BVI an especially attractive jurisdiction for pooling capital globally and investing it in markets where legal barriers or political risks would otherwise deter investment.
Premier Smith also announced a number of significant BVI initiatives, including the BVI Financial Services Commission's establishment of an office at BVI House Asia to work directly with regional clients on BVI regulatory matters. He added that the BVI
Financial Services Commission will launch special external access to its platform for filing transactions in November.
Presentations made at the conference included "China's One Belt One Road Regional Development Strategy"; "Future Disruption in the Offshore Space: Where will the next 'Uber' come from?" and "Emerging Wealth in China: Millionaire Households & Ultra High-Net Worth Households."
Director of Economics Unit, The Economist Group, Beijing, Dr. Qian Liu also spoke at the event and stated that the "BVI is sitting on a sweet spot with the rise of China".
Other notable speakers included Justice Barry Leon of the High Court of the Virgin Islands (Commercial Division); Jonathon Clifton, Group Managing Director of OIL; Matt Roberts, Partner of Harneys Hong Kong; Michelle L. Georges, Asia Representative, BVI Financial Services Commission; and Elise Donovan, Director of Hong Kong-based BVI House Asia.
Ms. Donovan said that BVI House Asia is proud to support Business BVI Asia for the second time in Hong Kong, a key global financial centre where they have had a physical presence since 2013. She said in addition, the office has recently launched a website to serve as a portal of information and will continue to expand its services to better serve BVI's business partners in the region.
The conference was held on September 23 under the theme "Pivoting to Asia – A View Beyond the Horizon. Over 100 industry experts and leaders from the most progressive businesses in Asia and the BVI attended the event and exchanged insights and knowledge about the offshore industry. BVI House Asia, the representative office of the Government of the British Virgin Islands (BVI) in Asia Pacific, was pleased to be the sole diamond sponsor of the conference for the second consecutive year.
Author