Ministry of Health & Social Development
Release Date:
Friday, 26 June 2020 - 5:12pm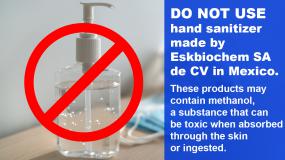 The Ministry of Health and Social Development is advising the public not to purchase and use hand sanitisers manufactured by Eskbiochem SA de CV in Mexico.
The health advisory is due to the potential presence of methanol which the United States Food Drug Administration (FDA) has warned can be "toxic when absorbed through the skin or ingested".
The US FDA has also identified nine hand sanitisers from this company that should not be used. They have reported that samples tested resulted in some containing various proportions of methanol, and no ethyl alcohol, the typical recommended ingredient.
Chief of Drugs and Pharmaceuticals Services in the Ministry of Health and Social Development, Mrs. Gracia Wheatley Smith stated that the first choice should be for persons to wash their hands often with soap and water for at least 20 seconds, especially after going to the bathroom; before eating; and after coughing, sneezing, or blowing of the nose.
Mrs. Wheatley Smith added, "If soap and water are not readily available, the ministry advises that an alcohol-based hand sanitiser that contains at least 60 percent ethanol alcohol should be used. We need to also be reminded to read the labels to clarify that the alcohol in alcohol based hand sanitiser is ethyl alcohol."
The US FDA has warned, "Methanol is not an acceptable ingredient for hand sanitisers and should not be used due to its toxic effects". Methanol is a toxic alcohol that is used industrially as a solvent, pesticide, and alternative fuel source.
Exposure to methanol can result in poisoning. Anyone who has used any of these hand sanitisers should seek medical treatment to reverse any of the toxic effects of methanol poisoning.
Substantial methanol exposure can cause nausea, vomiting, headache, blurred vision, permanent blindness, seizure, coma, permanent damage to the nervous system or death.
The Ministry of Health and Social Development reminds suppliers and the public that the hand sanitisers to be used should contain ethyl alcohol of 60 percent or more.
The public is encouraged to report any adverse events associated with the use of hand sanitisers or medicines to the Gracia Wheatley-Smith Chief of Drugs and Pharmaceutical Services as part of the Pharmacovigilance Program by emailing grwheatley-smith@gov.vg or by telephone by calling (284) 468-9850.
Notes:
The names of the hand sanitisers and the corresponding National Drug Code (NDC) numbers are listed below:
All-Clean Hand Sanitizer (NDC: 74589-002-01)
Esk Biochem Hand Sanitizer (NDC: 74589-007-01)
CleanCare NoGerm Advanced Hand Sanitiser 75% Alcohol (NDC: 74589-008-04)
Lavar 70 Gel Hand Sanitizer (NDC: 74589-006-01)
The Good Gel Antibacterial Gel Hand Sanitizer (NDC: 74589-010-10)
CleanCare NoGerm Advanced Hand Sanitizer 80% Alcohol (NDC: 74589-005-03)
CleanCare NoGerm Advanced Hand Sanitizer 75% Alcohol (NDC: 74589-009-01)
CleanCare NoGerm Advanced Hand Sanitizer 80% Alcohol (NDC: 74589-003-01)
Saniderm Advanced Hand Sanitizer (NDC: 74589-001-01)
Author