Ministry of Health & Social Development
Release Date:
Friday, 16 April 2021 - 6:06pm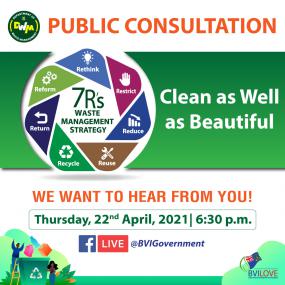 Residents of the Virgin Islands are invited to submit comments on the proposed Waste Management Strategy.
Manager of the Department of Waste Management, Mr. Neville Allen said that the proposed policies and strategy will revamp the way household and bulky waste is stored, collected and disposed in the Territory.
Public consultation meetings are scheduled to begin on Thursday, April 22 through a Live Virtual Meeting that begins at 6:30 p.m. on the Government's Facebook page. In person public consultation meetings are scheduled for the following date and locations:
May 5 on Virgin Gorda at Old Yard Village at 6:30 p.m.
May 6 on Tortola at Althea Scatliffe Primary School at 6:30 p.m.
May 9 on Anegada at the Anegada Reef Hotel at 1:00 p.m.
May 13 on Jost Van Dyke at Foxy's at 10:00 a.m.
Persons can access the draft Waste Management Strategy by visiting bvi.gov.vg/dwm-policy-documents. Persons will also be able to access printed copies by visiting the District Offices on each sister island or by visiting the Ministry of Health and Social Development office, (adjacent to traffic light near the Red Cross Building).
Interested persons can submit comments by email to ministryofhealth@gov.vg or deliver paper copies addressed to the Permanent Secretary, Ministry of Health and Social Development, Sea Meadow House Tortola by the May 30, 2021 deadline.
For more information, persons should contact the Ministry of Health and Social Development at 468-3701, extension 2282.
Author