Ministry of Health & Social Development
Release Date:
Tuesday, 6 October 2020 - 2:00pm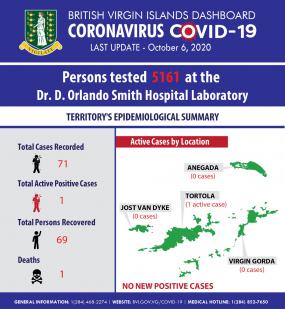 Minister for Health and Social Development Honourable Carvin Malone has reported that the Territory continues to prepare to reopen borders as no new COVID-19 cases are detected.
Minister Malone further reported that most of the COVID-19 cases have recovered and that there is only one (1) active case.
Honourable Malone said, "These low to no active cases are a good indication that the public is complying to all the health and safety protocols and measures that the Government has put in place. It is also a good indication on our readiness for re-opening in the weeks ahead which will give our economy the boost that it needs."
As of October 6, the total number of persons tested at the Dr. D Orlando Smith Hospital stands at 5161 with one (1) active COVID-19 case. The total number of recoveries is 69, the total number of COVID-19 cases recorded is 71 and one (1) death.
Honourable Malone commended the continued work of health teams, the joint task forces as well as the private and public alliances in the continued effort to combat and adjust in the 'New Regular' of COVID-19.
Persons who are experiencing any symptoms related to COVID-19 are reminded not to visit any healthcare facility but are encouraged to contact the Medical Hotline at 852-7650 for an assessment and an appointment for COVID-19 testing. Common symptoms include fever, cough, headache, fatigue, loss of taste or smell, sore throat, muscle aches, or difficulty breathing.
Author