Virgin Islands Shipping Registry
Release Date:
Thursday, 1 December 2016 - 4:01pm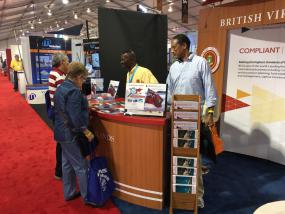 The Virgin Islands Shipping Registry (VISR) recently participated in the Fort Lauderdale International Boat Show in Florida.
The five day event was represented by Acting Director of the Virgin Islands Shipping Registry (VISR), Captain Raman Bala and Acting Registrar, Mr. Ronald Donovan, in an effort to help generate further exposure for the Territory's maritime and yachting industry. Exhibits ranged from yacht builders and designers to exotic cars and brokerage yachts.
A wide variety of boats were on display including runabouts, sport-fishers, high performance boats, centre consoles, canoes, and extraordinary super yachts.
Captain Bala said the Fort Lauderdale International Boat Show offered the perfect venue for the department to attract new business to the British Virgin Islands.
He added, "Our team met with new and existing customers and highlighted the benefits of registering their vessels with the VISR. They also provided information on the efforts being made by the Government of the Virgin Islands to make the Virgin Islands a one stop destination for Maritime Commerce."
Many prospective customers visited the booth during the event that was held from November 3 to 7, and received information on registration and regulatory compliance within the Territory.
As part of their engagement, the team was also able to network with customers and obtain feedback on what they expect from a shipping registry, and is expected to use the feedback to help guide the department in being more responsive to its customers' needs.
The Virgin Islands Shipping Registry seeks to ensure that Virgin Islands ships can safely, securely and efficiently enjoy the freedom of the seas and the Department also supports an effective and vigorous Maritime Administration.
###
Note to Editor (s)
Photo Caption: Members of the Virgin Islands Shipping Registry are pictured as they engaged with customers at the 2016 Fort Lauderdale International Boat Show. (Photo Credit: VISR)
Author