BVI London Office
Release Date:
Monday, 6 February 2017 - 3:13pm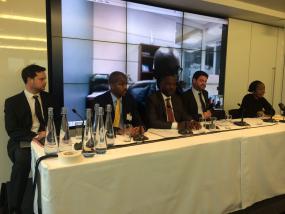 BVI London Office Director Benito Wheatley has told a law conference on International Financial Services and Small States that small jurisdictions should not be pushed to the margins of international finance where they would be effectively cut off from legitimate high-income generating economic activity.
"A proper balance must be found on international regulatory reforms, which does not arbitrarily impede small state [international finance centres] from engaging in high income economic activity of which they have limited options," Mr. Wheatley said.
Mr. Wheatley's statement was made during a high-level panel on the international tax reform agenda on January 30, alongside panellists Barbados Minister of International Business, Honourable Donville Inniss; OECD Global Forum Head of AEOI, Radhanath Houseden; Commonwealth Economic Advisor, Lucas Rutherford; and Attorney Fran Hendy.
Wheatley highlighted that international finance centres (IFCs) in small jurisdictions, such as BVI, offer valuable services to the international business community with their respected courts, practice of English Common law and availability of legal expertise and professional services.
"There must be recognition of the value many small state IFCs provide in terms of legal certainty, and flexibility of corporate structures that make cross-border investment possible, professional expertise, tax neutrality, lower charges to investment capital, and so on," he said.
Mr. Wheatley emphasised that in a globalised world economy where the distribution of investment capital is uneven among countries and regions, BVI and other IFCs in small jurisdictions provide the corporate vehicles in which there is investor confidence, and through which foreign direct investment can be channelled to developing countries to stimulate economic growth and development.
Mr. Wheatley added, "The value of the services provided by IFCs in small states in the global financial system and their utility in the world economy should be considered by the relevant international bodies and economic partners to fall within the scope of legitimate economic substance."
The Small States IFC Conference was organised by Queen Mary University of London, WilmerHale, Fran Hendy Attorneys and Caribbean Export Development Agency.
Left – Right: Commonwealth Economic Advisor Lucas Rutherford, BVI UK Representative Benito Wheatley, Barbados Minister of International Business Hon. Donville Inniss, OECD Global Forum Head of AEOI Radhanath Houseden and Attorney Fran Hendy.
Author