BVI Finance
Release Date:
Monday, 30 November 2015 - 4:00pm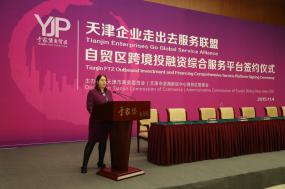 The Territory's overseas investment procedures and the services provided were highlighted at the Tianjin Enterprise Go Global Forum on November 4 and 5 in Tianjin, southeast of Beijing on the Bohai Gulf .
Representatives of BVI House Asia attended the forum and held discussions with a number of Tianjin officials.
The two day forum was sponsored by the Administrative Commission of Tianjin Binhai New Area Central Business District (CBD). Participants included officials from the CBD Administrative Commission, representatives of government investment promotion agencies, chambers of commerce, and professional service institutions.
Chief Executive Officer of BVI House Asia, Ms. Heather Tang said, "Not only did we have a valuable opportunity to engage with Tianjin officials, but we also gained a better understanding of the Tianjin Pilot Free Trade Zone."
Managing Director of The AMS Financial Group, Ms. Claire Abrehart delivered the feature presentation on how the BVI can assist Chinese enterprises going global by using various BVI structures.
The forum included a visit to the Binhai Huamao Center, as well as an introduction to the CBD investment environment and "Go Global" platform by Zheng Weimin, Director of the CBD Administrative Commission of the Tianjin Pilot Free Trade Zone.
###
About BVI House Asia
BVI House Asia is the representative office of the Government of the British Virgin Islands (BVI) in Asia Pacific. Based in Hong Kong, BVI House Asia was established in September 2013 to support and expand the strong relationship that the BVI has enjoyed with the Asia Pacific region for over 25 years. With a focus on financial services, the BVI provides a wide range of services to Asian businesses, such as asset protection, property holding, financial management, trading, copyrighting, bespoke trust services and investment business.
The BVI is among the largest corporate registers in the world and is lauded for its efficient time to market, competitive incorporation fees, and strong and innovative legal system. Drawing on its deep experience in the region and mature infrastructure in Asia, BVI House Asia is committed to building effective, trusted and responsible relationships with its clients, business partners and vested third parties. For more information about BVI House Asia, please visit: www.bvihouseasia.com.hk.
Author