Premier's Office
Department of Trade, Investment, Promotion and Consumer Affairs
Release Date:
Friday, 6 November 2015 - 2:15pm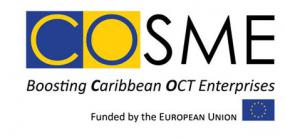 Representatives of Business Service Organisations (BSOs) in the British Virgin Islands, Anguilla, St. Barths, St. Maarten, St. Eustatius and Saba are preparing to attend a two-day Train-the-Trainer Proposal Writing Workshop being hosted in the Territory from November 9 to 10.
The workshop is organised by the Government of the Virgin Islands, in collaboration with the Department of Trade and Consumer Affairs and is part of the Caribbean Overseas Small and Medium Enterprises (COSME) Programme funded by the European Union under the 10th European Development Fund. The training will be held at Maria's By the Sea from 8:30 a.m. to 4:30 p.m. on both days.
The purpose of workshop is to strengthen the capacity of the BSOs in the Overseas Countries and Territories (OCTs) to deliver a greater range and quality of service to their members and clients with regards to writing competitive grant proposals.
Deputy Secretary in the Premier's Office, Mrs. Elvia Smith-Maduro stated, "This initiative will directly satisfy objective B of the overall project which is to improve the capacity of BSOs to deliver services to their members, engage in dialogue with their respective Governments, and to improve the competitiveness of the Small and Medium Enterprises they serve."
Mrs. Maduro added that the Train-the-Trainer Proposal Writing Workshop was just one of several other initiatives to be implemented over the next 18 months.
Participants will include business development service providers and senior staff from Business Support Organisations, senior staff from Chambers of Commerce and Business Associations; small enterprise advisors and consultants interested in further developing their technical skills and knowledge; and senior staff from microfinance and financial institutions that provide services to start-up and small businesses.
The sessions will be facilitated by Head of the Competiveness Company of Jamaica, West Indies, Dr. Beverley Morgan, who is an expert trainer in Proposal Writing.
Director in the Department of Trade and Consumer Affairs, Mrs. Karia Christopher is encouraging all small and local business service organisations to visit the COMSE website and take advantage of all the opportunities offered for capacity building in an effort to continue "fueling the entrepreneurial spirit".
The Premier's Office and the Department of Trade and Consumer Affairs are the lead agencies for the development of small businesses in the Territory and fully support all initiatives for the growth and sustainability of small businesses.
For more information on the COSME programme, visit the website at www.cosmeprogramme.org. Alternatively, the public can e-mail info@cosmeprogramme.org or telephone 1-284-468-5926.
As the Territory continues to secure its future, more on the work of the Government of the Virgin Islands can be found on www.bvi.gov.vg; and on Facebook, YouTube or Twitter at username: BVIGovernment
Author