Ministry of Health & Social Development
BVI Health Services Authority
Release Date:
Wednesday, 18 March 2020 - 5:29pm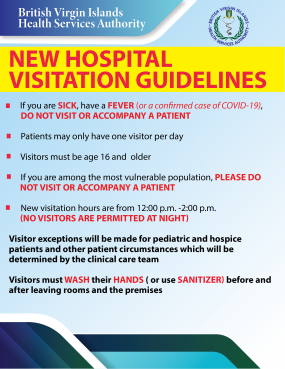 The BVI Health Services Authority has updated its rules regarding visitation in response to the novel coronavirus (COVID-19).
Chief Executive Officer, Dr. Ronald Georges said the BVI Health Services Authority has made a proactive decision to amend its visitation policy and protocols in order to protect patients, their families and caregivers.
"Effective immediately, we are reducing the number of entrances at the facility and ensuring that health and safety parameters are in place to protect our patients as much as possible," Dr. Georges stated.
The following guidelines should be adhered to by all persons visiting the Dr. D. Orlando Smith hospital:
If you are sick, have a fever (or a confirmed diagnosis of COVID-19), do not visit or accompany a patient.
Patients may only have one visitor per day.
Visitors must be age 16 and older.
If you are among the most vulnerable population, please do not visit or accompany a patient.
New visitation hours are from 12:00 noon to 2:00 p.m. (no visitors are permitted at night).
Visitor exceptions will be made for pediatric and hospice patients and other patient circumstances which will be determined by the clinical care team.
Visitors must wash their hands (or use sanitiser) before and after leaving rooms and the premises.
Persons vulnerable to COVID-19 include:
Persons age 60 and older.
Persons under the age of 60 with underlying health conditions.
Persons with chronic respiratory diseases such as asthma, emphysema or bronchitis.
Persons with diabetes, heart disease, kidney disease and chronic liver disease such as hepatitis.
Persons with neurological conditions such as Parkinson's disease, multiple sclerosis (MS), learning disabilities or cerebral palsy.
Persons with a weakened immune system as a result of HIV, AIDS, or cancer.
Those who are pregnant.
Persons who have received an organ transplant and remain on immunosuppression medication.
Persons undergoing chemotherapy and radiotherapy.
People with severe chest conditions such as cystic fibrosis or severe asthma.
"We know that these guidelines will be difficult on patients, their families and visitors to the Dr. D. Orlando Smith Hospital, however, please bear with us as we seek to put measures in place to reduce our vulnerability to COVID-19 and its impact on our patients," Dr. Georges further stated.
The BVI Health Services Authority is committed to delivering excellent, compassionate, client-centered healthcare across the Territory.
Author