Ministry of Health & Social Development
Release Date:
Saturday, 22 August 2020 - 2:33pm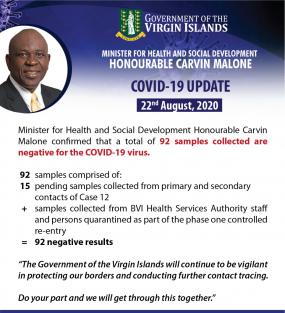 Minister for Health and Social Development Honourable Carvin Malone has just confirmed that a total of 92 samples collected have tested negative for the COVID-19 virus.
This comes after the detection of nine (9) new positive COVID-19 cases on August 21, which leaves the total number of active cases in the Territory at twelve (12). At his last announcement on August 21, Health Minister Honourable Malone noted that local health teams continue to carry out aggressive contact tracing and testing in an effort to mitigate and contain the spread of the virus.
The 92 negative result includes the 15 samples that were pending from primary and secondary contacts of Case 12, added with samples collected from BVI Health Services Authority staff, and persons quarantined as part of the phase one controlled re-entry into the Territory. All samples have been tested locally at the BVI Health Services Authority Laboratory through polymerise chain reaction (PCR) testing.
Honourable Malone expressed hope saying, "The Government of the Virgin Islands will continue to be vigilant in protecting our borders and conducting further contact tracing. Do your part and we will get through this together."
The total number of cases recorded in the Territory remains at 21; with twelve (12) active cases, eight (8) recoveries, and one (1) death.
Persons who are experiencing symptoms related to COVID-19 are encouraged to contact the Medical Hotline at 852-7650 to schedule an appointment for testing. Common symptoms include fever, cough, headache, fatigue, loss of taste or smell, sore throat, muscle aches, or difficulty breathing.
Author