Ministry of Health & Social Development
Release Date:
Thursday, 14 May 2020 - 9:49pm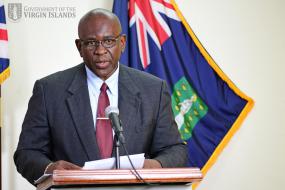 Deputy Premier and Minister for Health and Social Development Honourable Carvin Malone reports confirmation of case number 8 of COVID-19 in the British Virgin Islands.
Honourable Malone stated during his update that 22 samples were sent to the Caribbean Public Health Agency (CARPHA) in Trinidad for testing and confirmation and 21 of the samples resulted as negative and one (1) confirmed as positive for the virus that causes COVID-19.
Honourable Malone explained that Case 8 had been kept under quarantine as a close contact of a previously announced case and has exhibited only mild symptoms of the disease. He added that because the person remained in quarantine that the risk of community spread was lessened.
The sixth recovery was also announced as the re-tested samples were among the 21 negative results in accordance with CARPHA protocols.
The BVI's epidemiological summary as of May 14 is as follows:
157 persons tested
149 returned negative
8 persons reported positive
6 recovered
1 death
1 active case
The Ministry of Health and Social Development's epidemiological unit continues an aggressive contact tracing strategy in accordance with World Health Organization technical guidance.
Persons who have recently travelled or who may have come in contact with a possible case of COVID-19 and show any symptoms such as a fever, cough, difficulty breathing, headache or recent loss of taste or smell should stay at home and seek medical advice early by contacting the medical hotline at 852-7650.
Author