Department of Disaster Management
Release Date:
Monday, 14 May 2018 - 5:11pm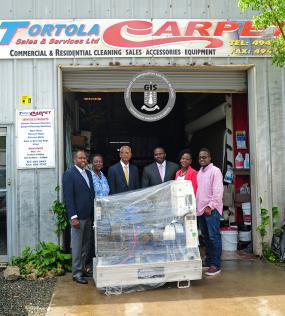 Owners of businesses in the British Virgin Islands are getting assistance to improve their contingency planning to better recover from future events that impact their operations.
The entrepreneurs will participate in a one-day Business Continuity and Disaster Recovery Symposium tomorrow May 15 at the Moorings' Mariner Inn Conference Room from 8:30 a.m. to 4:30 p.m.
The session is organised by the BVI Chamber of Commerce and Hotel Association (BVICCHA) in collaboration with the Department of Disaster Management (DDM) and support from the United Nations International Strategy for Disaster Reduction (UNISDR) and the Caribbean Disaster Emergency Management Agency (CDEMA).
The event is intended for all businesses throughout the Territory. Participants will be guided through the design of a business contingency plan which will identify appropriate business continuity solutions. They will also get guidance on how to identify recovery objectives and an effective incident response structure.
Chairman of the BVICCHA, Mr. Louis Potter said, "Contingency planning is an important part of any business operation. Businesses must be ready to deal with incidents that impact their operations. The objective of the symposium is to better equip businesses through a step by step process, to prepare for, respond and adapt to various types of events that can interrupt regular operations."
Business owners are urged to participate in the session which is being offered free of charge.
Director of the DDM, Ms. Sharleen DaBreo underscored the importance of the symposium and stated that the trio of events experienced in 2017 should have awakened in everyone a desire to be better prepared.
Ms. DaBreo said, "While the scale of some events may extend beyond our ability to cope, it is important that businesses develop a contingency plan than can guide them to resume operations in the shortest possible time. In the aftermath of an event, there is no time to be thinking about how to, it is the time to execute the procedures that already exist in a carefully designed contingency plan."
She also stated that the DDM has long advocated for the creation of disaster plans for the public and private sectors.
"Contingency planning is a critical element of your disaster plan and it is important that your business continuity practices are tested regularly to ensure they are functional and fit for purpose," she added.
Persons interested in registering for this free event can do so by contacting the BVICCHA at 494-3514 or the DDM at 468-4200.
Author