Ministry of Natural Resources and Labour
National Parks Trust
Release Date:
Wednesday, 11 November 2015 - 3:00pm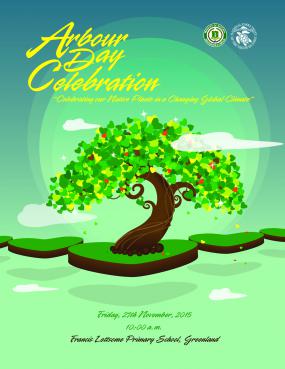 The National Parks Trust of the Virgin Islands is continuing its conservation efforts to preserve endangered and endemic plants species in the Virgin Islands.
In observation of Arbour Day on November 27, the Trust is urging the community to assist in the preservation of endemic and endangered plants by using native plants for landscaping which require lower maintenance and have already adapted to the local environment.
Programme Coordinator of the National Parks Trust of the Virgin Islands, Mr. Ronald Massicott said this year's theme, "Celebrating our Native Plants in a Changing Global Climate," highlights the significance of the native plant species found within the Puerto Rico Bank, an area that includes the British and United States Virgin Islands and Puerto Rico.
Mr. Massicott stated that these Territories were once connected as a shared landmass, and many unique plant species are found on the Puerto Rico Bank, including many endangered and endemic plant species. He said that native plant species have also evolved to live with the local climate, soil types and animals and rarely need pesticides as they have developed their own defenses against many pests and diseases.
Mr. Massicott added that it is important that the Territory continues to observe Arbour Day as it is a great way to educate the community on science, culture and heritage.
The Arbour Day ceremony will be held at the Francis Lettsome Primary School at 10:00 a.m. on November 27. Other activities planned for this year's observation include: community tree plantings, a poetry competition, a vertical garden competition and a Radio Trivia Quiz series on ZBVI Radio.
The Radio Trivia Quiz will take place from November 7 through November 21 and the Poetry competition deadline is November 20. There will also be the annual Arbour Day Plant Sale at the J.R. O'Neal Botanic Gardens from 9:30 a.m. to 3:30 p.m. week days; and a "Free Tree Giveaway" to the schools during the month of November. Additionally, schools in the Territory will be participating in a Vertical Garden Competition, and judging will be done during the week of November 23.
For more information on the "Free Tree Giveaway", Radio Trivia Quiz and guidelines for the competitions, persons should call the National Parks Trust at 494-3904.
The National Parks Trust aims to preserve and manage designated natural and cultural areas in order to improve the quality of life in the Virgin Islands.
Author