Ministry of Health & Social Development
Social Development
Release Date:
Tuesday, 10 May 2022 - 1:38pm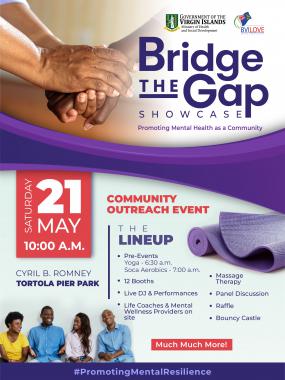 The Safe Haven Transitional Centre will be launching its 'Bridge the Gap Showcase' later this month to encourage the public to de-stigmatise receiving mental health services.
Acting Social Worker Mr. Loren Smith said the purpose of the showcase is to create a relaxing and entertaining environment where community members can come out and be educated and learn more about mental health issues and services available locally.
The showcase also seeks to bridge the gap between mental and physical health, needing mental wellness services and knowing how and where to access these services in the Territory.
"We want the community to understand that everyone can be affected by mental health issues especially in the stressful times that we are living in now with COVID-19 and its adverse impact on the economy," Mr. Smith said.
"Persons who are unable to cope with these drastic changes and associated ramifications can be severely mentally impacted leading to mental break downs," he added,
The showcase will be launched on Saturday May 21 at the Cyril B. Romney Tortola Pier Park. The day's event will begin with warm up for Wellness Pre-Events early morning yoga and soca aerobics beginning at 6:30 a.m. and the Showcase setting off at 10:00 a.m.
The showcase will feature 12 booths, mental wellness and life coaching services, a panel discussion, bouncy castle, massage therapy, yoga, DJs and live performances, soca aerobic and life coaches.
The public is invited to support the event in an effort to promote health and wellness in the Virgin Islands and receive inspiration on how to live satisfying lifestyles centered on wellness for all ages.
The Government of the Virgin Islands is committed to improving the health of the people of the Territory.
Author