Virgin Islands Shipping Registry
Release Date:
Tuesday, 23 February 2016 - 5:15pm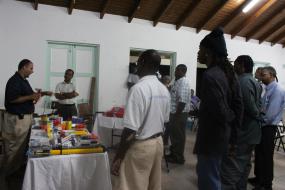 Members of the West End boating and yachting community were encouraged to practice greater maritime safety during a public outreach meeting and mini exposition held at the West End Community Centre on February 18.
Acting Director of the Virgin Islands Shipping Registry, (VISR) Captain Raman Bala said the public meeting was the first in a series of community outreach meetings organised by the department, as it seeks to become more responsive to the needs of the boating community and raise awareness on boating safety.
The topics covered during the session included key safety messages, rules for tendering dinghies to and from the shore, driving boats safely, operating in enclosed spaces aboard vessels, obtaining a boat master's license and use of safety equipment on boats.
Captain Bala explained that the Virgin Islands Shipping Registry is responsible for ensuring that all vessels in the Territory follow the international and local laws that the Government of the Virgin Islands has signed on to, such as the International Convention for the Safety of Life at Sea (SOLAS) and the Marine Pollution Act (MARPOL).
Captain Bala, while addressing marine safety inspections said, "In order to issue certificates under Merchant Shipping Regulations, the VISR is required to properly inspect and survey vessels regularly, certify the ship's equipment and crew, as well as ensure that the hull, machinery, safety and pollution prevention equipment are up to standard as required by law."
The VISR is a member of the Red Ensign Group (REG) of British Shipping Registries. REG is made up of the United Kingdom, the Crown Dependencies (Isle of Man, Guernsey and Jersey) and the United Kingdom Overseas Territories. These include Anguilla, Bermuda, British Virgin Islands, Cayman Islands, Falkland Islands, Gibraltar, Montserrat, St Helena and the Turks and Caicos Islands, that all operate shipping registers from their jurisdiction.
Any vessel registered within the REG, is a "British ship" and is entitled to fly the Red Ensign flag. The UK signs onto various international maritime laws and conventions on behalf of the REG. To remain in the REG and to certify vessels to operate internationally, the VISR has to ensure that British Virgin Islands registered vessels are synonymous with "quality shipping" by maintaining high technical, social, and administrative standards; as reflected in the REG Quality Objectives.
The Shipping Registry will continue its maritime education campaign and will conduct a series of community meetings throughout the Territory. Regular updates will also be provided to the public on its activities through educational pamphlets and radio and television programmes. For more information on the department, visit the Government website at bvi.gov.vg or telephone the department at 284-468-2902/03.
Author