Department of Disaster Management
Release Date:
Thursday, 1 June 2017 - 3:48pm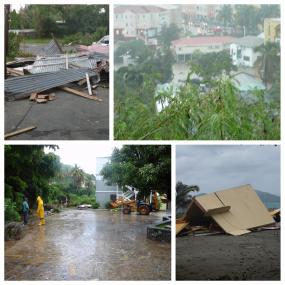 The public, including visitors, are advised to put precautionary measures in place and increase their state of readiness in preparation for an above normal hurricane season which began today June 1.
According to lead seasonal hurricane forecaster with the National Oceanic Atmospheric Administration's (NOAA's) Climate Prediction Centre, Gerry Bell, the above normal predictions for the 2017 Atlantic Hurricane Season are due to "weak or non-existent El Nino; near- or above-average sea-surface temperatures across the tropical Atlantic Ocean and Caribbean Sea; and average or weaker-than-average vertical wind shear in that same region."
An average hurricane season produces 12 named storms of which six become hurricanes, including three major hurricanes. This hurricane season is regarded as above normal because NOAA's Climate Prediction Centre has forecasted a 70 percent likelihood of 11 to 17 named storms of which five to nine could become hurricanes including two to four major hurricanes.
Director at the Department for Disaster Management DDM, Ms. Sharleen DaBreo said preparedness is key and everyone must be prepared.
"The predictions may change but our preparedness message will not," she stated, adding, "We want all individuals in the Territory to make hurricane preparedness a way of life because we know hurricanes will develop annually but we do not know where they will make landfall or how severe the impact will be."
Ms. DaBreo said the Territory has been fortunate over the past few years to be spared a direct hit from these cyclonic events but this sense of calm might have caused some persons to become complacent.
She said, "I strongly caution you against becoming too relaxed because even if we are not directly impacted, the outer bands of the hurricanes and tropical storms might be enough to cause significant inland or coastal flooding in the Territory resulting in infrastructural damage and even loss of life".
In an effort to increase awareness and encourage preparedness, the DDM's hurricane season message is 'Be Ready - Don't Let Your Guard Down'.
Information and Education Manager, Viona Alexander-Smith said multiple media platforms will be utilised to reach the public with hurricane messages.
She added, "We have already started to prompt individuals to get ready. We have been incorporating hurricane preparedness information on social media (facebook.com/bvi.ddm/, Twitter.com/BVIDDM and YouTube/user/bviddm). Additionally we have been presenting preparedness information to businesses and schools and we will continue to share information with the public via public service announcements (PSA's) on radio and television."
Now that the hurricane season has officially begun, Mrs. Smith said individuals can expect to see and hear more information on hurricanes starting with the annual hurricane messages from His Excellency, Governor John S. Duncan, OBE and Premier Dr. the Honourable D. Orlando Smith, OBE. These messages she added, will be available on radio, television, newspapers, social media and other online communication platforms and the DDM will continue to issue other information products in English and Spanish utilising these communication channels.
The DDM is encouraging individuals to start conducting inspections of their homes and businesses and undertake any remedial work which may be necessary to lessen the risk of flooding and wind damage especially on roofs, drains, doors, windows and general surroundings.
More information on hurricane preparedness is available for download on the bviddm.com website and at BVI DDM on Facebook and Twitter.
Photo Attached:
Photo Credit: Flooding from previous cyclonic event
Audio Attached:
Director of the Department of Disaster Management, Sharleen DaBreo
https://bvi.gov.vg/sites/default/files/228_-_sharleen_dabreo_hurricane_preparedness.mp3
Author