Department of Disaster Management
Release Date:
Tuesday, 10 July 2018 - 5:07pm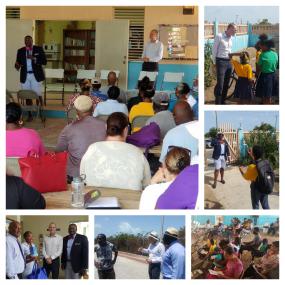 Residents of Anegada have been assured that more assistance will be provided in the planning and preparation for future disasters and recovery efforts following these events.
The residents met with His Excellency the Governor Augustus Jaspert, Deputy Governor, David Archer Jr.; Director of the Adventist Development Relief Association (ADRA), Jacob Adolphus; Sister Islands Coordinator, Vincent Wheatley and a team from the Department of Disaster Management (DDM) to discuss the importance of hurricane preparedness at a community meeting on Friday, July 6. The event was held at the Claudia Creque Educational Centre.
Director of the Department for Disaster Management, Sharleen DaBreo, OBE said the day was spent visiting a number of businesses throughout the island and listening to the concerns of residents.
Ms. DaBreo said, "The community meeting was well received and persons expressed their gratitude to the Governor and Deputy Governor for arranging to meet with them and to hear their concerns. A full list of the issues has been captured and we will now work with the various ministries to address these."
Director of ADRA, Jacob Adolphus made a donation of approximately fifty-five (55) blood glucose machines as part of the visit. Twenty-five (25) of the machines were distributed to the Anegada Medical Clinic.
Hurricane preparedness brochures were also distributed to keep residents informed and preparedness bags were provided by the Telecommunications Regulatory Commission.
Mr. Adolphus said, "The community had some concerns with the response following last year's passage of hurricane Irma but we did reassure them that ADRA - who is partnering with DDM, has come on board along with the Rotary Club and Red Cross to assist in certain areas. We do realise that DDM needs our help and whatever area we can help in the event of any hazard we will be there to assist."
Similar community meetings are being planned for Virgin Gorda and Jost van Dyke.
Author