Supreme Court
Release Date:
Tuesday, 13 June 2017 - 4:34pm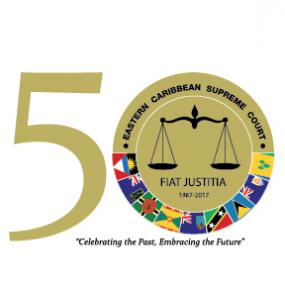 The public is invited to take a snapshot into the workings of the Eastern Caribbean Supreme Court as it continues its 50th Anniversary celebrations this year.
From this Wednesday, June 14 until Friday, June 16, officials at the Court will host the 'Court at a Glance Exhibition' in the West Atrium of the Central Administration Complex to educate residents on its history and showcase how it celebrates special events.
Her Ladyship the Honourable Justice Nicola Byer said, "This exhibition is part of an exciting schedule of activities to celebrate our achievement and to appreciate all the stakeholders who make this organisation work."
Her Ladyship added, "The centerpiece and highlight of this exhibition will be on the 16th of June, between the hours of 10:00 a.m. and 2:00 p.m. when you will have a slate of attorneys offering free advice to the public in the areas of law, family/divorce, probate/succession and land/property. It is all a means to show the public that the administration of justice is accessible to all."
A Commissioner of Oaths will also be on site and the public is invited to browse the photographic display.
The Eastern Caribbean Supreme Court was inaugurated on February 27, 1967 as a replacement to the Supreme Court of the Windward and Leeward Islands, which served the territories of the Eastern Caribbean that are now members of the Organisation of Eastern Caribbean States (OECS). It has jurisdiction in Anguilla, Antigua and Barbuda, the British Virgin Islands, the Commonwealth of Dominica, Grenada, Saint Kitts and Nevis, Saint Lucia, Saint Vincent and the Grenadines, and Montserrat. The 50th anniversary celebrations are being held under the theme, "Celebrating the Past, Embracing the Future".
https://bvi.gov.vg/sites/default/files/audio_clip_2_-_her_ladyship_the_honourable_justice_nicola_byer.mp3
https://bvi.gov.vg/sites/default/files/audio_clip_1_-_her_ladyship_the_honourable_justice_nicola_byer.mp3
Author