Ministry of Transportation Works and Utilities
BVI Electricity Corporation
Release Date:
Tuesday, 1 November 2016 - 1:37pm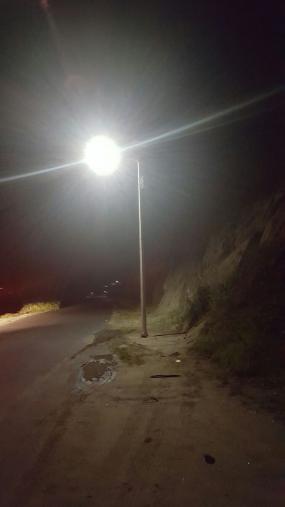 The Government of the Virgin Islands remains committed to green energy to reduce the Territory's energy cost and has added 15 solar lights to illuminate along public roads namely Drakes Highway between Pockwood Pond and Fort Recovery.
Minister for Communications and Works Honourable Mark Vanterpool made the announcement during the Second Sitting of the Second Session of the Third House of Assembly on Thursday, October 13.
The installation of the solar street lights is part of Government's Comprehensive Renewable Energy Pilot Programmeto reduce public expenditure by 30 percent.
Honourable Mark Vanterpool said, "The energy policy will reduce energy costs for consumers and ultimately lead the charge for the creation of jobs in the renewable energy sector."
He further explained that because the Virgin Islands isheavily dependent on Tourism and Financial Services,it is crucial, that we do everything we can, to constantly improve our product with various energy offerings and efficiencies, in the face of climate change and fluctuating oil prices.
A total of 50 solar streets lights were purchased to be placed in areas where there is no utility service or electricity lines and is in need of public street lighting.
The team at the BVIEC is currently installingan additional 15 solar street lights in North Sound,Virgin Gorda. Over the next two months, five solar street lights will be installed on Jost Van Dyke, five on Anegada, one will be placed on Salt Island and the remaining nine will be installed in West End.
The Energy Policy, which is a guideline on how the Territory should execute its alternative energy initiatives, was passed last week in the House of Assembly. The Energy Policy is a part of the overarching Renewable Energy Programme. Its tactics are intertwined with the actions of the programme which includes increasing renewable energy generation which encompasses the implementation of solar street lights, increasing public awareness, improving energy efficiency, improving supply side competition with job creation, diversifying fuel sources, and more.
All strategies are connected to the ultimate goal of minimising the Territory's carbon footprintand reducing our dependence on fossil fuel over time by 30 percent. The introduction of solar powered lighting structures across the Territory is a great milestone in this regard.
The Ministry of Communications and Works will continue to encourage and foster the development and use of alternative energy.
Author