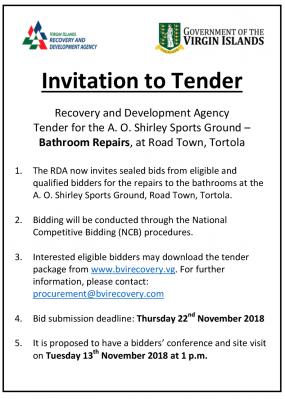 Recovery and Development Agency
Tender for the A. O. Shirley Sports Ground – Bathroom Repairs, at Road Town, Tortola
The RDA now invites sealed bids from eligible and qualified bidders for the repairs to the bathrooms at the A. O. Shirley Sports Ground, Road Town, Tortola.
Bidding will be conducted through the National Competitive Bidding (NCB) procedures.
Interested eligible bidders may download the tender package from www.bvirecovery.vg. For further information, please contact: procurement@bvirecovery.com
Bid submission deadline: Thursday 22nd November 2018
It is proposed to have a bidders' conference and site visit on Tuesday 13th November 2018 at 1 p.m.
Author
File
Ministry or Department Associated with this News Article: